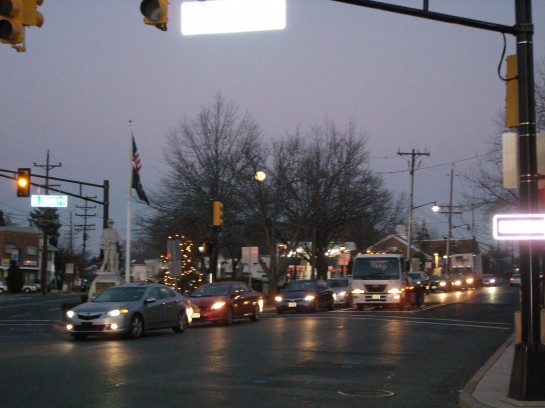 So…this photo is not an amazingly evocative one, like jeremy's, nor particularly lyrical, like adam's, nor does it brilliantly capture the frenetic rhythms of a place at a particular time, like sebastian's. neither does it convey the expressive overflow of interstitial spaces as nicely as austin's contribution. it has one thing going for it, though: it features the full moon rising on the night of the winter solstice and recent lunar eclipse. the globe of light emerging among the bare tree limbs is the celestial object in question…this shot is taken down the street from my apartment in highland park. it was bitterly cold, as it generally is for me around there. people were on their way home from work, the streets were crowded…
some friends were going to gather in a park or by a river or train tracks or something to watch the eclipse late that night. for a number of reasons, i elected to go to sleep instead. but the strangest thing happened: i thought about setting my alarm for 2 am to go out and watch, but i was exhausted on every level and decided against it. at two-something, i became gradually conscious of a sensation that i can only describe as music that i was 'hearing' with my entire body. it woke me up, and did not really go away as a dream (more or less) would. lying in bed, i could look out the window and see, with perfect clarity, the eclipse in full swing.
this was already a weird, unsettling night for many other reasons, so maybe the eclipse just became a sign of all that other stuff going on…but it seemed to me more like the weirdness of the night in my life could not be separated from the weirdness of the eclipse and vice versa.
my friend debby kindly drove me to the airport the next day. she and the other folks who had stalwartly gathered to watch the thing did not experience the same macabre eclipse. no bizarre, atonal, silent but embodied music accompanied this rare event for them. at least not that anyone reported to her. what was it?
i have to turn to our friends deleuze and guattari, who write in a thousand plateaus: "You are longitude and latitude, a set of speeds and slownessnes between unformed particles, a set of unspecified affects. You have the individuality of a day, a season, a year, a life (regardless of its duration) — a climate, a wind, a swarm, a pack (regardless of its regularity). Or at least you can have it, you can reach it. A cloud of locusts carried in by the wind at five in the evening: a vampire who goes out at night, a werewolf at full moon….It is the wolf itself, and the horse, and the child, that cease to be subjects to become events, in assemblages that are inseparable from an hour, a season, an atmosphere, an air, a life….The becoming-evening, becoming-night of an animal, blood nuptials. Five o'clock is this animal! This animal is this place! 'The thin dog is running in the road, this dog is the road,' cries Virginia Woolf. That is how we need to feel."
And that is how i felt. Happy new year, friends.
– Eric Sarmiento
New Brunswick, NJ