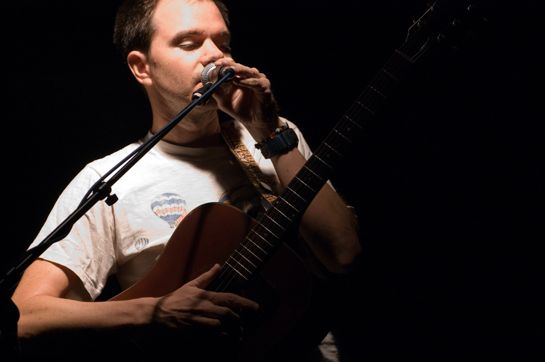 Many thanks to everyone who came out to the show at Sullivan Hall last month and made it such a wonderful evening. The Able Birds are a fantastic band and such kind people, too. Hopefully that night was the first of many times I get to share a bill with them. Later in the evening, it was a real pleasure to be joined on stage by my comrade Alli Smith! As captured in one of these great photos taken by my friend Kristen Reed — thanks, K! Thanks, too, to the very patient and chilled out bartender at V-bar who humored me after the show. Oh, and if you're looking for a nice late night place to grab a bite to eat around there, Raoul's makes an amazing roasted beet and goat cheese salad.
In other news, I've been working on finishing up two songs that will be released as an e-single in the next month or so (if all goes smoothly). One's about how one space can be many different places, and features dogs of darkness and dubious theories of the universe. The other is about the intriguing fact that, even before we try to (or try not to), we connect with some people more than others, and when those connections are strong enough, they call into being a different world right where you are, amidst the one that you were living in before…but then there are always circumstances to contend with. And there's the fact that, to paraphrase one of my idols, when we act/choose, many other people and things are acting/choosing with us. Which raises the question, does the collection of agencies that come together in any given choice limit or multiply the possibilities?
More to come, friends….
ers